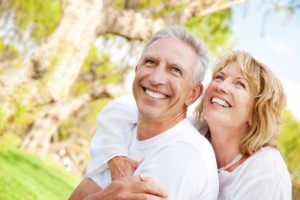 Are you concerned about the effects of traditional tooth replacement methods on your appearance? Although dentures and dental bridges can easily replace your missing teeth, they can be inconvenient and embarrassing to live with. That's why Dr. Donnelly now offers patients an alternative to traditional dentures and bridges with dental implants. By replacing your missing teeth and the corresponding tooth roots, dental implants can imitate the strength and stability of your natural teeth. Dental implants enable you to eat all the foods you love, without struggling to chew. Additionally, dental implants stimulate and maintain jaw bone density, preventing bone loss and helping to maintain your youthful facial features. Make an appointment with Dr. Donnelly at San Marcos Gentle Dental for your dental implants consultation today. Dr. Donnelly is a highly qualified cosmetic and restorative dentist. San Marcos Gentle Dental proudly serves patients throughout San Marcos, TX, Kyle, Wimberley, New Braunfels, and the surrounding communities.
What are Dental Implants?
Dental implants are tiny titanium posts that serve as artificial tooth roots used to support a restoration for a missing tooth or several teeth. Dental implants are both restorative and cosmetic, helping to stop or prevent bone loss in the jaw.
What are the Benefits of Dental Implants?
Stability and Security
No collateral damage of surrounding healthy teeth
Better oral hygiene
Enhanced self confidence and quality of life
More youthful appearance
Dental Implants Appointments in San Marcos, TX
The time required to complete your dental implants procedure will depend upon your current dental health and your individual bone density. In some cases, you may need a procedure to increase bone density before your dental implant procedure. In any case, you shouldn't put off the quality of life  change you deserve. The sooner you make an appointment for a dental implants consultation with Dr. Donnelly at San Marcos Gentle Dental, the sooner you can begin to enjoy the benefits of dental implants restorations. Dr. Donnelly is an experienced dental implants restoration dentist proudly restoring smiles throughout San Marcos, TX, Kyle, Wimberley, New Braunfels, and nearby areas.