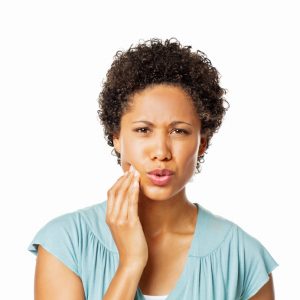 A old crown fell out of your mouth. Your tooth hurts, and you are self-conscious.  Call your dentist in San Marcos, Dr. J. Robert Donnelly, to find out what to do. As a Master in the Academy of General Dentistry and a Texas Monthly Super Dentist with years of experience, he has the skill and compassion you can trust.
Immediate Care for Teeth and Gums
Dentistry is more than X-rays, cleanings and fillings. Sometimes oral health situations need quick action and advice. The process of restoration often begins at home with prevention.
Protect your oral health from decay and gum disease with twice daily brushing and flossing and with six-month exams and cleanings at San Marcos Gentle Dental. This preventive dental care removes harmful plaque and tartar and uncovers small problems before they become complex and uncomfortable.
However, sometimes a serious situation will arise out of the blue. A motor vehicle accident, sports injury, fall on ice in the cold weather–mishaps knock out teeth or lacerate soft oral tissues. When something urgent happens, what do you do?
Please call San Marcos Gentle Dental for non-life threatening emergencies involving the teeth, gums, tongue, or jaw. Dr. Donnelly's team will schedule an appointment if warranted or advise you on what to do before you come to the office.
Be Prepared
Every household should have first aid supplies in the medicine cabinet.  Pressing oral health problems may occur more often than you may realize, especially if there are kids around. Dr. Donnelly suggests having these items handy:
Ibuprofen or acetaminophen to relieve pain
4×4 sterile gauze pads
Plastic sandwich bags and over the counter tooth preservative
Oral numbing gel
Sterile gloves
Dental floss
Wax to cover tooth rough edges or broken orthodontic brackets or wires
Bottled water
What You Can Do Right Away
An avulsed tooth Rinse dirt and debris off the tooth with warm water, leaving clinging soft tissue in place. Replace the tooth in the empty socket, and hold it while getting to San Marcos Gentle Dental. Also, you could place the tooth between your cheek and gum or put it in a sealed plastic bag with milk or over the counter tooth preservative The sooner Dr. Donnelly treats the tooth, the better its chances are for full recovery.
Bad toothache You could have a dental abscess related to deep decay. Dr. Donnelly will see you to decide on treatment. In the meantime, apply ice to your aching jaw–twenty minutes on and twenty minutes off. Take ibuprofen or acetaminophen as needed.
Chipped tooth  If you fracture a tooth, save the pieces and bring them to the office. Chips and fractures can be repaired with composite resin bonding, porcelain veneers or dental crowns, depending on the extent of the injury. Cover the damaged tooth with orthodontic wax.
Lost crown Try to put the restoration back in place. If unsuccessful, place it in a small plastic bag,  and bring it to your emergency dentist in San Marcos. Cover any jagged tooth edges with orthodontic wax.
Jaw stuck open or shut Your jaw may be fractured. This is a medical emergency. Transport to the hospital emergency room for treatment.
Contact Us
Dr. Donnelly and his team want their patients to call about any pressing dental concern. Please contact San Marcos Gentle Dental for fast, accurate advice and an appointment when needed. We're here to help!