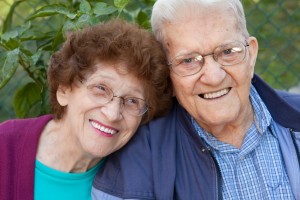 Whether it was a traumatic accident, poor habits or simply genetics that caused your missing teeth, one thing is for sure — you've got to have them replaced. Gapped teeth cause problems beyond difficulty eating; they can also affect the way you speak, and can cause even more tooth loss later on. And that's saying nothing about the hit gaps in a smile have on self-confidence. With full or partial dentures in San Marcos, though, you can replace those missing teeth for a better functioning, more attractive smile. Keep reading to learn more from your gentle dentist in San Marcos today.
Dentures Are a Top Tooth Replacement Option for San Marcos
Dentures are a tooth replacement option that can be used to replace a few missing teeth or a whole row on the top or bottom of the mouth.
Partial Dentures Replace a Few Missing Teeth
If you're only missing a few teeth in the top or bottom rows, partial dentures may be your best replacement solution — even if teeth are missing from different places in the mouth. A partial denture can fit around existing teeth like a puzzle piece that's secured with clips or brackets. Partial dentures are removable to make for easy cleaning.
Full Dentures Replace a Whole Row of Missing Teeth
If you've lost all the teeth in the top or bottom of your mouth, full dentures are the replacement option you need. They're removable like partial dentures, and they fit securely into the mouth, held into place by suction or an over-the-counter adhesive.
Implant Supported Dentures
All dentures — whether full or partial replacements — can also be either supported by dental implants, or not. Implant-supported dentures actually offer a better replacement option, as they replace both the visible portion of the tooth as well as its root — and that prevents further tooth loss later on.
Keep in mind that the process for getting dental implants is lengthier, more invasive and more expensive than with non-implant supported dentures, though. To find out more about this option and whether or not you're a good candidate for dental implants, you'll need to talk further with Dr. Donnelly, your dentist in San Marcos.
Schedule Your Denture Consultation in San Marcos Today
If you're interested in finding out how dentures can complete your smile, don't hesitate to schedule your appointment at San Marcos Gentle Dental today. We're the dental team San Marcos, New Braunfels and surrounding communities turn to for their dentures — come in to learn how we can give you your smile back this fall.