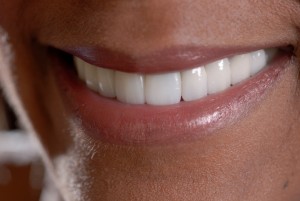 Tired of chipped, stained teeth that detract from your smile? Investigate porcelain veneers at San Marcos Gentle Dental.
Worn, chipped, stained teeth detract from overall appearance and self-confidence as well. San Marcos porcelain veneers from J. Robert Donnelly DDS could be the cosmetic dental service you've been seeking to change your smile from dull to attractive comfortably in just 2 dental visits.
What are porcelain veneers?
Porcelain veneers are very thin shells of dental grade porcelain. Tooth-shaped and colored to blend in with surrounding teeth, veneers, or laminates, completely cover:
chips
gaps
mild overcrowding
fine cracks
deep staining from foods, drinks, root canal therapy and prescription drugs
teeth that are poorly shaped and sized in comparison with their neighbors
Dr. Donnelly and his associate dentist, Dr. Gregory Wang, expertly evaluate patients' smiles and create veneers as one of many cosmetic dental services that completely makeover marred healthy teeth into youthful, attractive smiles.
The veneer procedure in New Braunfels and San Marcos
Dr. Donnelly personally examines a patient's teeth and gums to determine if porcelain veneers are appropriate. Teeth and gums should be healthy–free of decay, extensive restorations and gum disease. He takes x-rays, photos and other modern imaging and formulates a treatment plan, considering realistic smile goals proposed by the patient.
If doctor and patient decide to use veneers, Dr. Donnelly takes an impression of the patient's teeth to send to a dental lab. He also removes a very small sliver of enamel, about ½ mm, from the front surface of each tooth to receive a veneer. This painless preparation allows the veneers to fit comfortably under the patient's lips.
At the dental lab, a master ceramist makes a model of the patient's mouth and individually sculpts each veneer, ensuring shape, size and color are appropriate for the patient's facial appearance and bone structure. At the next dental appointment, the San Marcos dentist bonds the new veneers in place, adjusting for bite and fit. The bonding cement changes the color of the laminates as needed for a great natural look.
Dr. Donnelly also offers a special kind of porcelain veneers called Lumineers. These veneers are so thin they require no preparation of tooth enamel and are reversible. They are well-known for their exquisite color and rapid refurbishment of smile aesthetics.
Both porcelain veneers and lumineers combine well with teeth whitening, cosmetic resin bonding and other aesthetic services for a smile that's youthful, even and natural-looking. Teeth require simple brushing and flossing each day and usual 6-month exams and cleanings at San Marcos Gentle Dental. With good care, porcelain veneers last for years and add a measure of durability to teeth.
Would wouldn't like a better looking smile?
You can have the smile of your dreams by consulting the professional team at San Marcos Gentle Dental. Drs. Donnelly and Wang anticipate maintaining your oral health and creating that outstanding smile. Contact the office today for your appointment.