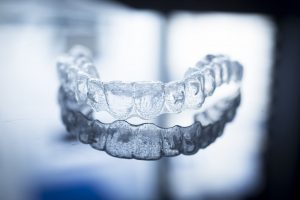 When it comes to making an important decision about your oral health, knowledge is power! The more you know, the better equipped you will be to make an informed decision that benefits your smile for years to come. If you are considering pursuing orthodontic treatment to straighten your teeth, you may have heard about Invisalign as an alternative to traditional metal braces. But is Invisalign the right treatment for you? Here are 5 important points to consider before moving forward with Invisalign in San Marcos.
What is Invisalign?
Invisalign is a modern orthodontic treatment that enables patients to straighten their teeth without having to deal with unsightly metal brackets and wires in their mouth. Instead, Invisalign treatment utilizes a series of transparent plastic aligners to gradually shift teeth into the desired position. The virtually-invisible aligners are custom-designed to apply the perfect amount of pressure to gently straighten crooked, crowded or misaligned teeth.
What Every Patient Should Know About Invisalign
Before moving forward with Invisalign treatment, every patient should consider the following 5 points:
#1: Invisalign Success Depends on You – Invisalign can often straighten one's smile faster than traditional metal braces – but only if patients wear the aligners as directed by their dentist. For the best results, patients must wear their aligners with dedication for 20 to 22 hours a day.
#2: You Will Need to Limit Your Morning Coffee – Black coffee and other dark drinks can stain an Invisalign tray. If you typically drink coffee throughout the morning, you will need to be mindful about removing your Invisalign tray before reaching for the coffee pot. Try to limit yourself to only drinking coffee during breakfast, when you already have your Invisalign tray out to eat.
#3: Invisalign is Virtually Painless – Patients may feel some mild discomfort when first wearing a new set of Invisalign aligners – but this is actually a good sign! It means the aligners are doing their job and gently moving teeth into the desired position. Any temporary discomfort should quickly subside as the mouth adjusts to the new aligners.
#4: Cut Down on Snacking – That bag of chips or granola bar in the afternoon may not seem worth it anymore since you must spend time brushing your teeth afterward before placing your Invisalign trays back in. On the bright side, however, you may feel healthier by avoiding sugary snacks and birthday cake at work!
#5:  It's Not the Right Treatment for Everyone – Invisalign can correct a wide range of orthodontic issues, such as crooked teeth, gapped teeth and minor over/underbites. However, patients with more complex or severe issues may still benefit more from traditional orthodontic treatment.
Am I a Good Candidate?
As noted above, Invisalign can subtly and effectively treat a wide range of orthodontic issues. However, every smile is unique, so there is no guarantee that Invisalign is the best way to straighten your teeth. If you are interested in Invisalign treatment, your best bet is to schedule an initial consultation with a cosmetic dentist in San Marcos today. The sooner you call, the sooner you could be smiling with confidence!
About the Author
Families and individuals in San Marcos and surrounding communities know they can trust Dr. J. Robert Donnelly to help them improve the appearance and function of their teeth. A graduate of the prestigious Las Vegas Institute of Cosmetic Dentistry, Dr. Donnelly has many years of experience working with patients to achieve the smiles of their dreams. For more information on Invisalign and other cosmetic dentistry treatments, visit the San Marcos Gentle Dental website or call Dr. Donnelly at (512) 396-5225.