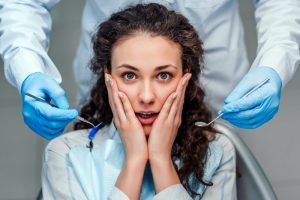 Do you know what to do in a dental emergency? Maybe you were chewing on a pen cap at work, or playing your favorite sport at school, or munching on some popcorn while binge-watching your favorite show. Then suddenly, you hear a loud crunch or feel a sharp pain in your mouth. Whether you have a chipped, cracked, or knocked-out tooth, you need to call your emergency dentist in San Marcos as soon as possible. Acting quickly and correctly could prevent further damage, restore your knocked-out tooth, and help you get back to your regular life without delay. Here's how to handle the most common dental emergencies until you can get to your dentist's office.
Knocked-Out Tooth
The sooner you can see your dentist after losing a permanent tooth, the more likely they'll be able to reattach it. In the meantime, it's important that the tooth be kept clean and moist. Being careful to avoid touching the roots, lightly rinse the tooth off with water but don't remove any tissue stuck on it. You can gently try to place it back in the socket, or you can store it in a bag of milk until you can get to your dental appointment.
Chipped or Cracked Tooth
A lightly chipped tooth can usually wait a few days before ir needs to be seen by a dentist. However, a larger crack or fracture needs immediate attention because the inside of your tooth may have been damaged as well. First, rinse your mouth out with water to keep it clean. If you're in pain, you can apply a cold compress to reduce swelling and use over-the-counter painkillers like acetaminophen, but do not use aspirin. Never apply a painkiller like Orajel directly to your gums, since they can burn your gum tissue.
Severe Toothache
Unfortunately, many factors can cause a toothache. While these can sometimes be remedied with better dental habits and improved oral hygiene, other times you may need emergency care. If you have a long-lasting toothache that seems to be getting worse over time, you may be in danger of losing the tooth. You need to see your emergency dentist right away for treatment if you experience symptoms like:
Darkening of one or more teeth
Swollen glands or jaw
Loose teeth
Severe bad breath
Knowing what to do in a dental emergency can give you confidence and peace of mind, and it may even save your smile!
About the Practice
The talented and experienced team at San Marcos Gentle Dental takes pride in providing superior restorative, cosmetic, and emergency dental care to the San Marcos, TX area. Dr. J. Robert Donnelly and Dr. John K. Drisdale are both highly experienced and accomplished dentists who have extensive training in a plethora of advanced dental treatments. If you experience a dental emergency, they are prepared to help you as quickly and comfortably as possible. To contact them, you can visit their website or call (512) 396-5225.