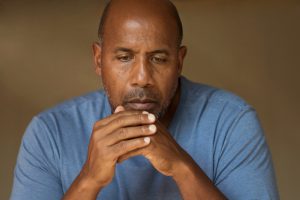 What would it feel like to smile with confidence again? Wouldn't it be great to walk into your favorite restaurant and not worry about what to order? If you're living with a failing or missing tooth, there is hope and solutions for reclaiming your smile. You may be a candidate for dental implants in San Marcos, and Dr. J. Robert Donnelly can help!
Oral Health and Missing Teeth
Besides your confidence and nutrition, did you know your missing tooth is also affecting your oral health? When your root is missing, your jawbone has nothing to support and it will begin to deteriorate, eliminating support for your remaining teeth and eventually leading to more tooth loss. Without a replacement tooth, your healthy remaining teeth will begin to shift into the open space, which can cause damage or fractures to your teeth. All of this greatly impacts your oral health, and it's a good idea to think about replacing your tooth as soon as you can.
How Can Dental Implants Help?
Dental implants replace both your tooth and your root, which protects the health of your bone and keeps your healthy teeth from shifting. A biocompatible titanium post is placed into your bone to take the place of your root and create a foundation for your new tooth, which will be placed after a 3-4 month healing period.
When your implant is ready, Dr. Donnelly will customize a high quality porcelain crown that will give you all the function you had with your natural tooth, and is aesthetically pleasing. Because your implant crown is much like your tooth, you'll be able to eat, chew, talk, and smile with confidence again.
Are Dental Implants Right for Me?
Dr. Donnelly can determine if implants are right for your needs with an examination and x-rays. Implants require enough healthy bone structure to support them in order to be successful. It's also important that the patient is in good overall health. If implants are not right for your situation, your dentist in Sam Marcos can discuss other tooth replacement options that may suit your needs.
Contact San Marcos Gentle Dental
If you're ready to learn more about reclaiming your smile and your oral health, San Marcos Gentle Dental is here for you. We encourage you to call us today and schedule a consultation with Dr. Donnelly. With his extensive knowledge and training, you can rest assured that you're working with an expert.