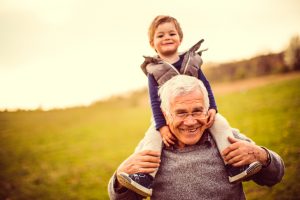 You dutifully follow your grandchild as they run through the park. You think it's so funny that they act like they've never been outside whenever you bring them here. As they serpentine through the grass, you know inevitably where they will end up: their favorite tree. The only reason it's their favorite is because it's the only one they can climb. You remember when they used to need your help to get started, but these days they are usually sitting on a branch by the time you get there. Their parents don't like them climbing trees, but you know how sturdy they are. What may look like a flimsy sapling is actually strong and securely rooted into the ground. Dental implants work in a similar way, in that much of their strength comes from the root. Dental implants in San Marcos are one of the best ways you can replace your missing teeth.
What Are Dental Implants?
Most dental procedures are able to help your tooth above the gum line. However, once it has gone completely missing, they can do very little. Dental implants are one of the few procedures that can restore a tooth from the root up. This root not only supports the new tooth, but it also helps stimulate blood flow to the jaw and surrounding tissue, ensuring longevity and overall oral health. Dental implants are made of 3 basic parts:
A titanium root
A metal connector, or abutment
A porcelain crown
The titanium in the root not only assures that it is strong, but that it will securely meld with your natural jawbone. The porcelain crown restores the portion of the tooth above the gum line. The ceramic used to make it ensures that the tooth is both pleasing to look at and functionally strong. These two elements are connected by the abutment, which also serves to support the crown from the inside. Dental implants are more comprehensive and stronger than traditional crowns and bridges.
What Is The Procedure Like?
The first step to getting dental implants is to visit Dr. J. Robert Donnelly at San Marcos Gentle Dental. That way he can determine if you are a good candidate for dental implants. Once that has been decided, the implant process involves 3 basic steps:
The titanium root will be surgically placed into your gums
You will be given 3-6 months to heal, as well as allow the root to bond to your jawbone.
The last visit is when Dr. Donnelly will place the crown into your mouth
You will be under a gentle form of general anesthesia during the first procedure to assure your comfort. The healing period is dependent on your condition coming into the implant process. Dental implants are one of the most versatile ways to replace missing teeth, as they can be used to restore a single tooth, support a bridge, or even anchor a set of dentures. Dental implants have a 98% success rate when properly maintained, which only entails routine brushing and flossing.
Any Questions?
If you are curious about what dental implants could do for your smile, please give us a call today. Your smile can be brought back, so don't feel like you have to be stuck with your missing teeth.