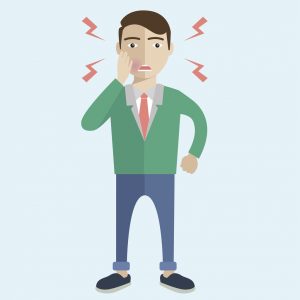 Can you imagine living with a distorted face, robbed of the basic abilities to eat, drink, and swallow normally? This the dark reality of an oral cancer survivor if lesions and abscesses are left unnoticed and/or untreated, let alone the very real possibility of dying from the disease. April is oral cancer awareness month, which is why we're taking the time to highlight this otherwise overlooked dangerous disease. Dr. Robert Donnelly wants to address the misconceptions of oral cancer and how you can be a proactive patient for both your dental and general health by receiving regular oral cancer screenings during your dental appointments at San Marcos Gentle Dental.
Misconceptions of Oral Cancer
There are many shocking truths surrounding oral cancer today and you need to be aware of them!
Prevalence
Head, mouth, and neck cancers get the stereotype that they're "rare." Even CNN said so in their own article Oral Cancer's Toll Cruel, but that's simply not true! 132 Americans will be diagnosed with oral cancer each day, totally over 48,000 annually. Of those almost 50,000 people, 9,570 are estimated to actually die from the disease. Those that survive will most likely suffer from disfigurements, dietary restrictions, excruciating pain, and the hovering dark cloud of oral cancer reoccurring on a day-to-day basis.
Non-Smokers Aren't at Risk
Yes, tobacco users are one of the highest risk patients. But, just because you don't smoke or chew doesn't mean that you're not at risk. In fact, recent statistics show that there's been a decline in smoking-related diagnoses (because of an overall decrease in American smokers) and a significant increase of HPV-positive diagnoses. Did you know that about 12,000 people ages 15 to 24 are infected with one of 200 strains of HPV at any given time? Approximately 26 million sexually active Americans will have an oral HPV infection and not ever know it. Because of this anonymity, HPV is now the leading cause of oral cancer, making literally everyone a high-risk patient.
You Can Spot the Signs Yourself
Stealthy is an understatement when it comes to oral cancer. Although oral cancer is so prevalent, oral cancer is routinely discovered in its latest stages. Which consequently is when the disease is aggressive and the most dangerous. If you discover oral cancer in its early stages, the 5-year survival rate is as high as 85%! But, in contrast, if oral cancer has had a chance to spread to other organs in your body, the 5-year survival rate plummets to just about 30-50%.
The issue at hand is that your untrained eye cannot spot the early signs of oral cancer, only the help of your dentist can. If you notice visible or painful symptoms of oral cancer, there's a good chance that oral cancer has been festering in your body for a while now. We recommend if you see a lesion or abscess to seek immediate medical attention from our San Marcos Gentle Dental office!
Get an Oral Cancer Screening ASAP!
When's the last time you were professionally screened for oral cancer? Just because you've been living in bliss doesn't mean your oral healthy couldn't be under attack. It's important to have your head, mouth, and neck expertly examined for signs of oral cancer during your regular dental appointments. Contact our office to receive this important screening along with a professional cleaning today!