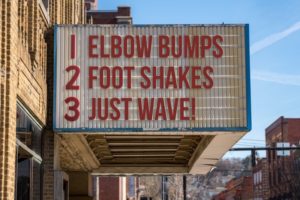 When you go back to your dentist in San Marcos for a checkup and cleaning during the COVID-19 crisis, you'll likely notice that a lot of your dental staff's practices have changed. This is to help prevent the spread of the virus and prioritize patient safety. One of the changes that you'll likely notice is that your dental team will be social distancing whenever possible, including avoiding any hugs or handshakes. Read on to learn how this is preventing droplet transfer and the spread of COVID-19.
What is Social Distancing?
The Centers for Disease Control and Prevention recommends social distancing in public spaces and around others whenever possible. This means staying a safe distance of at least six feet away from others to prevent the spread of saliva droplets that could lead to infection. When these droplets transfer from person-to-person or person-to-surface-to-person and come into contact with your mucous membrane, you could become infected. Social distancing and avoiding contact with others helps minimize the risk of this occurring.
How is Your Dentist Practicing Social Distancing?
Your dental staff is practicing social distancing in-office by avoiding handshakes and hugs with patients and minimizing the chances of patient-to-patient contact by offering sequenced patient scheduling. This way, you won't have to worry about coming into direct contact with another person and being exposed to any transfer of saliva.
In addition to practicing social distancing in their office whenever possible, your dentist in San Marcos is also taking additional sanitation and disinfection measures to keep the waiting room and treatment area sterile and safe.
What Are Some Contact-Free Ways to Greet Your Dentist?
If you or your child are excited about finally getting to see your dentist again during these hectic times, you won't be able to hug them or shake their hand, so it's a good idea to be prepared and have some contact-free greeting ideas in your back pocket. You can give a friendly wave as you walk through the doors, offer a pair of excited jazz hands, or show them how happy you are to see them with an elbow bump. Either way, your dental team will be glad to know that you're keeping up with your oral health and happy to see you!
Even though you may be tempted to postpone your regular visits with your dentist due to the emergence of COVID-19, this decision could have a dire impact on your oral health. Your dental practice is actually one of the safest places you can visit during this time because of all of the safety precautions they're taking. Plus, by scheduling your regular appointment, you can rest-assured that your oral health is on the right track.
About the Author
Dr. Robert Donnelly is a dedicated, experienced dentist who is proud to offer honest, high-quality dental care to his community of San Marcos. He regularly completes advanced education courses and is an active member of several professional organizations, including the American Dental Association. He provides comprehensive dental care for entire families and focuses on optimizing oral health and prioritizing patients' wellbeing. For questions or to schedule an appointment, visit San Marcos Gentle Dental's website or call 512-396-5225.