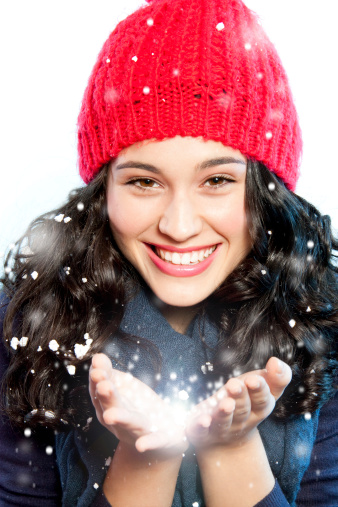 Looking for some tooth-friendly tips this holiday season? We have some suggestions from a dentist in San Marcos. Use these ideas to keep your teeth and gums shining bright as you enjoy your seasonal festivities.

Tip Number One: Remember the Basics
The way to become great at anything is to master the basics.When it comes to dental health, this means knowing how to brush your teeth effectively. Here are some tips for making each brush stroke count:
Use a soft bristled toothbrush and toothpaste with the ADA seal of acceptance.
Brush not only the front of your teeth but the backs and sides as well.
Brush the inside of your mouth as well as your tongue. Decay-causing bacteria love to gather on these spots.
Keep the brush at a 45 degree angle when using it.
Wait at least 10-15 minutes after brushing to use a dental rinse. This gives the fluoride in the toothpaste time to take effect.
It's also important to floss at least once a day. You'll find floss string on the market in a variety of widths to match almost any oral profile. You can also ask your dentist to recommend a brand.
Tip Number Two: Remember that Sticky is Icky
What would the holidays be without the occasional sweet indulgence? Just remember to keep all things in moderation. While you're selecting your treats, please also remember that gooey, sticky items like caramel popcorn and candy apples can attach themselves to your teeth like barnacles, doing double damage to your teeth by creating the kind of sugary environment that cavity-causing bacteria love. Opt for healthier choices instead. Your teeth will thank you.
Tip Number Three: Drink Lots of Water
It's impossible to say too many good things about good old H2O. Not only does it keep your body hydrated, it helps to produce saliva, which is important for keeping cavities in check. Water also helps to clean your teeth in between brushings, making it the beverage of choice during the holidays and the rest of the year.
Tip Number Four: Keep Sugar-Free Gum Close at Hand
Chewing sugar-free gum stimulates saliva production, satisfies sugar cravings without the sugar, and helps to keep your teeth cleaner. Always keep a pack close at hand during the holiday season. Sugar-free mints are another great option.
Tip Number Five: Eat Your Dessert with the Main Meal
One way to have your cake and eat it too is to eat it with, not after, your lunch or dinner. This keeps your teeth from getting hit with a sugar overload all at once. Plus, it keeps the sweet sensation going throughout the meal.
Tip Number Six: Start the New Year with a Dental Checkup and Cleaning
The beginning of the year is the perfect time to schedule a dental appointment. It allows you to enjoy the clean, refreshing feeling that comes from a professional cleaning while making sure that your teeth and gums are in good health. Make appointments for your family members as well, so everything can start 2019 on the right note.
The holidays only come around once a year. So by all means make the most of them. But do so in a way that benefits your teeth and gums. That way, you'll have sweet memories of the season instead of a sour toothache.
About the Author
Dr. J. Robert Donnelly earned his DDS degree from Texas Health Science Center in San Antonio. He also served our troops as a dentist in the US Marine Crops before entering civilian life to set up his private practice. You can reach his office online or by calling 
(512) 396-5225