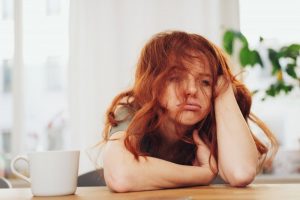 In America, stress is a national epidemic that impacts a massive group of people from a variety of different demographics. In fact, according to the American Institute of Stress, about 20 percent of Americans are under extreme stress. When you're constantly burying your worries, it can cause you to form habits that are harmful to your oral and overall health like excessive eating, sleeping disorders, and teeth grinding. Read on to learn how your body is responding to stress and how it could be damaging your pearly whites.<
Teeth Grinding: Your Body's Response to Stress
Every night when you go to bed, you probably think that your body will release all the tension that has built up throughout the day. Instead, it leads to the development of bad habits like teeth grinding, otherwise known as bruxism. The thing about a habit that makes it so dangerous is that you rarely realize when or how often you're doing it. For example, you may be grinding your teeth when you're asleep.
Every time you grind your teeth, you're causing unnecessary wear-and-tear to them, including enamel erosion. This portion of your tooth protects it from oral health problems like cavities and keeps harmful oral bacteria from infecting the roots of your teeth, resulting in severe toothaches.
Grinding and Clenching is More Common Than You Think
According to the American Sleep Association, about 10 percent of American adults are affected by bruxism. It also impacts 15 percent of children as well. That means that millions of people are grinding their teeth and making their mouth susceptible to developing oral health problems. If you wake up noticing you have a sore jaw, feel pain when biting, or notice that your teeth are worn down, be sure to visit your dentist immediately.
It's also important to note that if your family members grind their teeth, you're at a higher risk for doing the same. So, be sure to alert your dentist at your next routine checkup and cleaning so they can keep an eye out for symptoms and prevent additional damage.
A Dentist Can Help Reduce the Impact
Stress can be caused by a variety of complex issues, making it sometimes impossible to treat. However, there are different ways that you can decrease the impact that it will have on your wellbeing. They'll be able to create a custom-fitted nightguard to protect your enamel. There are also other constructive ways to deal with stress like focusing on self-care, attending therapy, or addressing the root of the issue.
It can be difficult to battle this condition that so many Americans are accustomed to experiencing, but it's well worth the effort. You can fortify your wellbeing and protect your teeth by learning how your body communicates stress and tackling it before it has a chance to cause you harm.
About the Author
Dr. Robert Donnelly is a Master of the Academy of General Dentistry and has completed over 1,600 hours of continued education to sharpen his skills and gain additional hands-on experience. He also earned his Lifelong Learning & Service Recognition for being committed to helping communities in need, mentoring new dentists, and attending countless educational courses. He is passionate about helping improve his patients' quality of life by providing services such as custom nightguards, sleep apnea therapy, and dozens of other comprehensive procedures and treatments. To schedule an appointment or for any questions, visit San Marcos Gentle Dental's website or contact 512-396-5225.