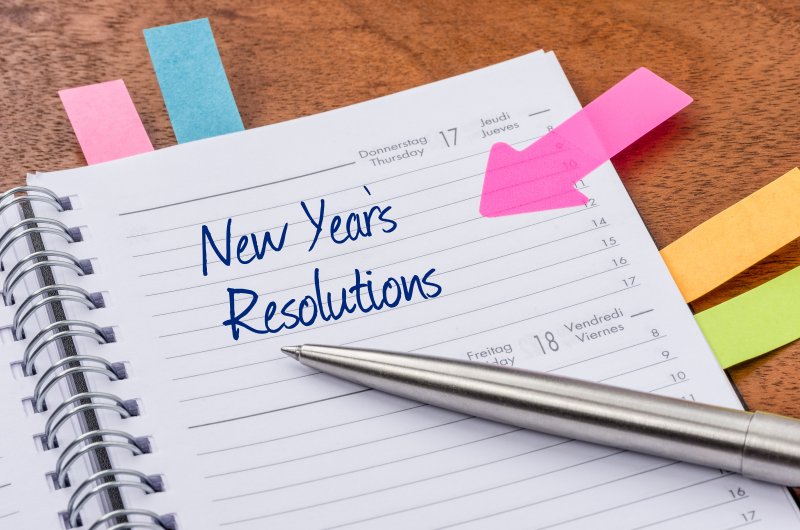 We've officially made it to 2022! Have you started working on your list of New Year's resolutions? For most people, that typically includes ways to improve their health and financial situation. Well, if you choose to focus on your dental health, you can create a win-win situation for your smile and wallet! That said, here are some ideas for New Year's resolutions that you can use to keep your smile healthy all year long.
Power Up Your Oral Hygiene Habits
A good oral hygiene routine is essential for a healthy smile. Not only will it make your smile look its very best, but it can positively affect your mouth's health. Believe it or not, taking proper care of your teeth and gums is easier than you might think! All you need to do is brush at least twice a day, floss daily, and rinse regularly with an ADA-approved mouthwash. By incorporating these practices into your everyday routine, your teeth will shine bright, and your gums will feel less sensitive.
Make Better Dietary Choices
Did you know that diet has a significant impact on oral health? Overindulging in sugary, starchy, acidic, and processed foods can be detrimental to your smile. They'll provide nourishment for the harmful bacteria in your mouth, increasing your chances of cavities, decay, and gum disease. That's why it's incredibly important to make healthy dietary choices. You can do that by limiting your consumption of sugary and acidic foods, reducing snacking between meals, rinsing with water after eating, and consuming nutrient-rich foods (i.e., fruits, vegetables, whole grains, lean proteins, dairy products).
Address Any Dental Problems
If you have any dental problems that require your attention (like an improper bite, damaged tooth, or cavity), you should get them addressed as soon as possible. Your dentist can examine your mouth and create an appropriate treatment plan for the underlying issue. They'll help you avoid severe complications down the line while simultaneously improving the appearance of your smile.
Quit Smoking and Using Tobacco
Most people know that using tobacco is harmful to your overall health. However, it's just as bad for your oral health. Not only can tobacco stain your teeth, but it can increase your risk of several dental problems. Why not make 2022 the year you commit to quitting? Even though nicotine is highly addictive, a medical or dental professional can make the feat as easy as can be! They'll provide you with all the resources, support, and guidance you need.
This year, you should focus on improving your oral health. By using the ideas above as the inspiration for your New Year's resolutions, you can ensure your smile stays happy and healthy all year long!
About the Practice
At San Marcos Gentle Dental, we offer exceptional, state-of-the-art, individually tailored dental services that are guaranteed to leave you smiling after every appointment. Our team is passionate about helping patients of all ages achieve optimal oral health. For more ways to keep your smile healthy in 2022, visit our website or call (512) 396-5225.