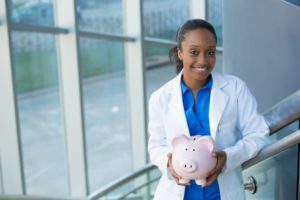 Many people don't see their dentist for checkups as frequently as they should. After all, why spend time and money getting your teeth professionally cleaned if you already brush and floss at home? However, routine dental visits are much more important than you might realize. While you may think you're saving yourself from large dental bills by avoiding these appointments, you might actually end up spending even more in the long run. Here are four reasons why regular checkups with your dentist in San Marcos can save you money.
Catch Gum Disease Early
Gum disease is a highly preventable infection, yet about half of adults will have it at some point. At every checkup, your dentist will look for early symptoms and treat it before it does serious damage. Left untreated, gum disease can cause your gums to recede, your jawbone to weaken, and your teeth to fall out. You'd have to spend a significant amount of money on tooth replacements and extensive gum disease therapy.
Detect Oral Cancer
Your dentist also examines your mouth, throat, and neck for any abnormalities that could indicate oral cancer. This kind of cancer can spread rapidly, so missing just one checkup could mean the difference between a fairly simple treatment or intensive chemotherapy. These regular screenings could save your life as well as your wallet!
Tackle Tooth Decay
You often won't notice a cavity unless it reaches the inside of the tooth and causes pain. At this point, you might need a dental crown, a root canal, or even a tooth extraction to treat the decay. However, if you attend your checkups, your dentist can detect and fill tiny cavities before they worsen. Fillings are not only less invasive than those other procedures, but they're more likely to be covered by insurance.
Prevent Teeth Stains
While not quite as serious as the previous three issues, dental discoloration can negatively impact your self-esteem. Luckily, professional cleanings can prevent stains from setting in. After your checkup, a dental hygienist will coat your teeth in a prophylaxis paste that breaks apart surface stains. Without these visits, you might spend more money on cosmetic teeth whitening procedures that are unlikely to qualify for insurance coverage.
If you haven't had two dental checkups this year, why not schedule one before 2020 ends? That way you can start off 2021 on the right foot with a bright, healthy smile!
About the Practice
Dr. J. Robert Donnelly and Dr. John K. Drisdale are both highly experienced dentists who bring their expertise and kind natures to all of our patients at San Marcos Gentle Dental. We accept most major PPO dental insurance plans. Alternatively, with our Advanced Care Membership program, you can pay a flat annual fee that nets you two FREE preventive appointments a year, as well as discounts on many other services. Lastly, we offer third-party financing options with low-interest rates. To schedule your next checkup and start saving money, visit our website or call (512) 396-5225.