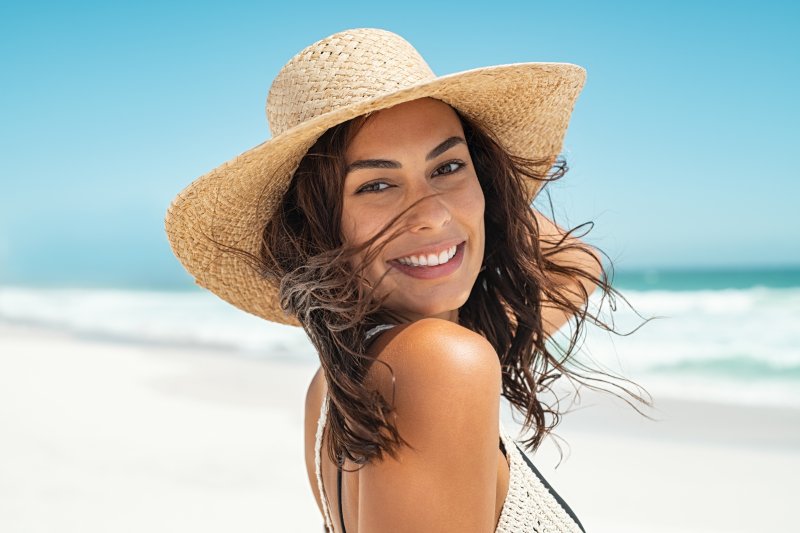 The temperature is heating up, the days are getting longer… it's vacation season! Whether you have your sights set on a far-away destination or you are planning to stay local, there are a few summer oral health tips you should keep in mind. After all, the last thing you want is for a smile-related injury, like a cracked tooth, to derail your plans! With this in mind, keep reading for a few must-know best practices from a dentist in San Marcos.
#1. Drink Plenty of Water
While on vacation, it can be tempting to always have a fun drink in hand, like a delicious, blended coffee or fruity adult beverage. However, drinks that are dark in color or high in sugar can quickly wreak havoc on the look and function of your smile. Therefore, it's best to stick with water the majority of the time. Not only will you stay hydrated, but this best practice will help remove food particles and other cavity-causing debris from your teeth.
#2. Don't Go to Bed Without Brushing
After a long day lying in the sun or sightseeing around town, it can be tempting to head straight to bed once you return to your room. But going to bed without brushing your teeth significantly increases your risk of developing dental problems like cavities and gum disease! So, make sure to always brush for a full two minutes before getting under the covers. If you haven't already, make sure to floss and rinse with mouthwash as well.
#3. Opt for Healthy Snacks
To keep your energy up, it's important to eat throughout the day. Although it can be tempting to reach for candy or salty chips between meals, try opting for healthy snacks instead. Foods like raw celery and crisp apples aren't just vitamin-rich, their crunchy nature removes plaque and debris from your teeth as you chew!
#4. Keep Sugarless Gum On Hand
While out and about, it may be unrealistic to brush and floss after each meal. To help keep your teeth clean, chew on some gum in the meantime. This will encourage saliva production, washing away food particles that would've otherwise clung to your mouth. Just make sure to opt for a sugarless option!
The last thing you want is for your summer activities to result in fall cavities. Fortunately, you can prevent that from happening by implementing the above tips during your summer vacation!
About the Author
After serving this country as an officer in The United States Marine Corps, Dr. J. Robert Donnelly earned his Doctor of Dental Surgery at The University of Texas Health Science Center in San Antonio. Today, he is a Master of the Academy of General Dentistry, which is a testament to his commitment to continuing education and exceptional dental care. If you want to learn more about keeping your teeth healthy throughout the summer or would like to schedule a visit after your vacation, don't hesitate to visit his website or give him a call at 512-396-5225.