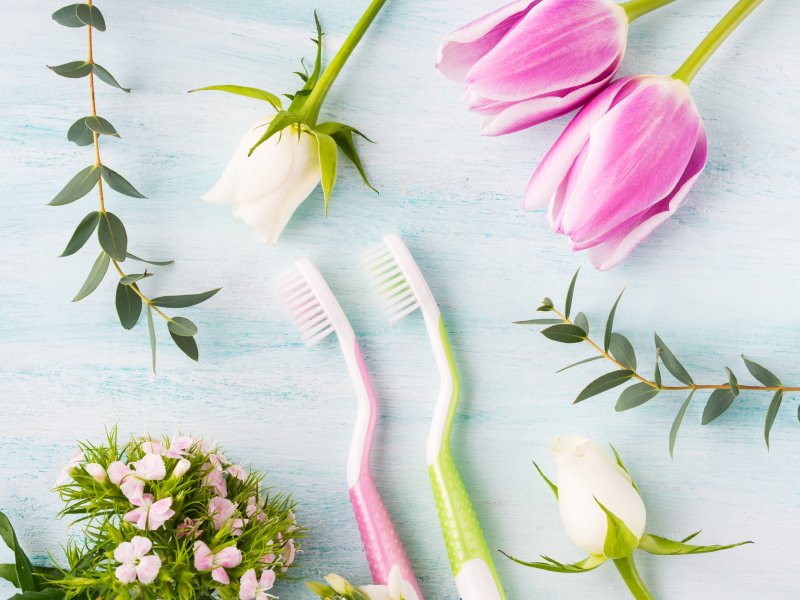 Springtime is finally here! The sun is shining, the birds are singing, and you're excited to get out more now that the winter weather is gone—though living in Texas, you can never be quite too sure about that. However, your excitement quickly fades after looking in the bathroom mirror. Your smile seems yellow, dull, and a little pitiful; not befitting of springtime at all. But what can you do about this? Your teeth could benefit from a little spring cleaning.
Update Your Equipment
A cleaner mouth starts with your toothbrush; you'll want to be sure that your equipment at home is up to date. Inspect your brush—do the bristles appear worn or discolored? Even if they seem a little frayed, you might want to consider a replacement or an upgrade. Toothbrushes with fresh, softer bristles will help to prevent enamel loss as you clean your teeth.
Electric toothbrushes are also an option, and they've been proven to clean more thoroughly than their traditional counterparts. No matter what toothbrush you end up selecting, having a sanitary place to store it between uses is important, too—you don't want it to collect and transfer additional bacteria to your mouth! Washing your toothbrush holder regularly with warm, soapy water or running it through the dishwasher once or twice a week is recommended.
Establish a New Routine
Once you've settled on a toothbrush, you'll want to turn your attention to your actual routine—what steps are you taking to ensure oral cleanliness? You should brush your teeth for two minutes twice a day while also flossing and using an anti-septic or anti-bacterial mouthwash in the evening. Consistency here is key, and your oral health will only be as good as your habits. Brushing regularly also gives you the chance to inspect your mouth on a daily basis, allowing you to identify and note any concerns.
Schedule a Professional Cleaning
You might have the best toothbrush that money can buy and an unfaltering regimen, but you'll still benefit from having a professional teeth cleaning. A hygienist, using special tools that you don't have access to at home, will polish away stains and remove tartar. This gives your teeth a vibrant sheen and reduces the risk of decay. They will also clean the hard-to-reach spaces between your teeth where plaque usually builds up.
Having your teeth cleaned will also give your dentist the opportunity to inspect your mouth and determine if there are any potential problems or concerns. Your dentist is a valuable resource for information concerning oral care, so it's a great chance to ask any questions you might have and to receive help.
If you want to make the most of spring this year, consider having your teeth cleaned; life is better when you're smiling. Plus, a little bit of spring cleaning now could save your mouth a lot of trouble next spring.
About the Author
San Marcos Gentle Dental proudly serves families in the Texas Hill Country and is helmed by Dr. J. Robert Donnelly. Dr. Donnelly completed his DDS at the University of Texas Health Science Center in San Antonio and has attained status as a Master of the Academy of General Dentistry. He is also a member of the American Dental Association, the Texas Dental Association, the American Academy of Cosmetic Dentistry, and many other prestigious organizations. His practice offers a full range of services including preventive, restorative, and cosmetic dentistry. If you would like to contact Dr. Donnelly, he can be reached via his website or (512) 396-5225.