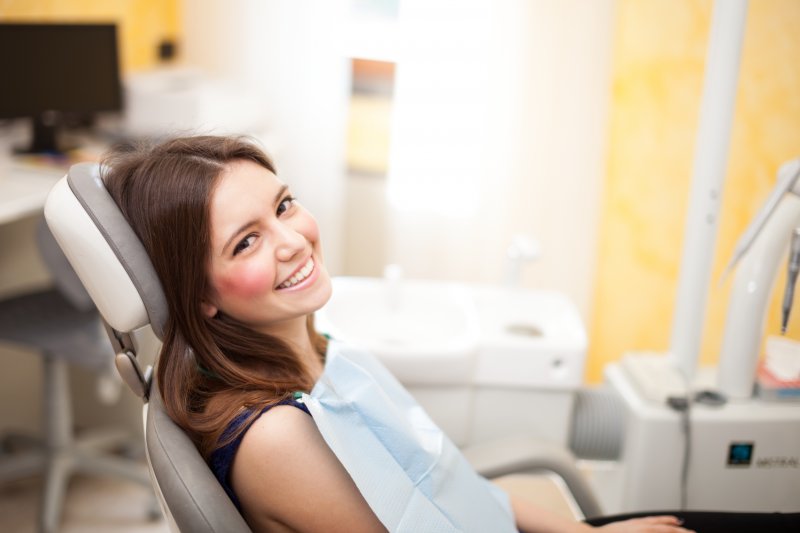 When it comes to protecting your oral health, your dentist in San Marcos is your best ally. But, to get the most from your relationship, you'll need to visit for preventive care every six months. What can you expect to happen while you're there, though? Read on to get the details and prepare to reap the benefits of being proactive!
Completing the Initial Paperwork
It's best to arrive for your first visit about 15 minutes early so you can complete the necessary paperwork. At this time, one of the friendly office staff members will verify your dental insurance, and he or she will provide any other pertinent information you need.
Meet Your Dental Hygienist
After the initial paperwork is completed, you'll meet your dental hygienist. To get things started, you may be asked some questions about your oral and overall health. Then, if you have any queries of your own, this will be your opportunity to ask them.
Dental X-Rays Captured
The next step is to have digital X-Rays taken, the purpose of which is to build a baseline for your oral health. This is valuable because it can be referred to in the future to monitor the progress or retrogression of your dental wellness. An added benefit is that with digital X-Rays, you'll be exposed to 90% less radiation than the traditional method.
A Thorough Cleaning
The dental hygienist will then clean your teeth to remove any lingering debris, plaque and tartar. This is one of the key benefits of a preventive care visit because it allows you to have a fresh, new start.
A Full Examination
Typically, you'll undergo two examinations: one from your dental hygienist and the other from your dentist. The former will look for signs of tooth decay and gum disease while the latter will perform an oral cancer screening. Additionally, he or she will assess the condition of your jaw and neck.
The Final Consultation
After the examination is complete, you'll sit down with your dentist to go over your results. At this time, you'll be provided with tips on ways to improve your oral health, and you'll be allowed an opportunity to ask any final questions you may have.
Typically, preventive care visits are fully covered by dental insurance, which saves you money initially, and it helps you to avoid costly and complex dental procedures down the road. So to maximize your dental insurance and protect your mouth, teeth and gums, contact your local dentist to schedule your first visit today!
About the Author
Dr. J. Robert Donnelly is a graduate of The University of Texas Health Science Center in San Antonio. In his postgraduate capacity, he has also gone on to complete the rigorous requirements to earn the status of Master of the Academy of General Dentistry. Dr. Donnelly additionally maintains professional affiliation with such organizations as the American Academy of Cosmetic Dentistry and the Doctors Organization for Conscious Sedation. He provides comprehensive care at San Marcos Gentle Dental, and he can be reached for more information through his website.