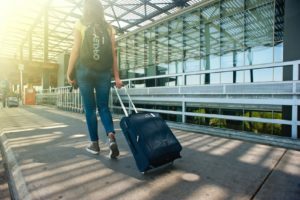 Summer is here, which means your bags are packed for a vacation. The last thing you'd expect to ruin your travel plans is a dental emergency, but 1 in 6 Americans requires urgent attention from a dentist every year. If the unexpected should happen, don't panic. Here's how to handle a dental emergency when traveling.
Visit Your Dentist Before You Leave
Dental emergencies can be caused by many things, like accidents or injuries. However, many result from an untreated dental problem, like a cavity. You can ensure there aren't any concerns hiding in your mouth that may turn into a big problem while you're away by visiting your dentist.
Schedule a cleaning and checkup with your dentist before you leave. It will ensure your teeth and gums are healthy to give you peace of mind.
Plan for the Unexpected
As you pack sunblock and other summer necessities, create a small dental emergency kit to take with you. Include over-the-counter pain relievers, gauze, and other items to treat common issues, like toothaches. Find a dentist near your destination to have a phone number handy, just in case.
Go to the ER If No Dentist is Available
It's always best to visit a dentist for dental emergencies, but time is of the utmost importance. If you can't find a dentist, go to the closest hospital. Emergency departments can't treat oral health issues; however, they can prescribe antibiotics and pain relievers to treat infections and reduce your discomfort until you can see a dentist.
Managing Common Dental Emergencies
No matter how well you try to prevent a dental emergency, it can still happen. Here's how to handle the most common oral health situations:
Toothache: Taking a pain reliever and eating soft foods will help keep you comfortable. Sleep with your pillow elevated to prevent blood from pooling in your head to avoid a throbbing sensation.
Dislodged Tooth: Gently position your tooth in place and bite on gauze to prevent it from moving. If a tooth has been fully displaced, hold it by the crown and rinse it with cool water. Do not use any soaps or cleaners and don't scrub or dry your tooth. Insert it back into its socket and get to a dentist within the next 30 minutes.
Broken Tooth: Rinse your mouth with salt water to kill bacteria and reduce pain and inflammation. Avoid chewing with the tooth until after it has been repaired.
Lost Restoration: Don't use any glues or adhesives to rebond a restoration. You can use a small dab of toothpaste as a temporary solution. Don't chew with the tooth until after the restoration has been replaced.
An emergency dentist will provide the quick care you need, so you can get back to your travel plans.
About Dr. J. Robert Donnelly
Dr. Donnelly earned his dental degree at The University of Texas Health Science Center and has regularly continued his education to provide up-to-date services, including cosmetic dentistry and emergency dentistry. He is affiliated with several professional organizations including the American Dental Association. Contact our office today at (512) 396-5225 for an appointment.