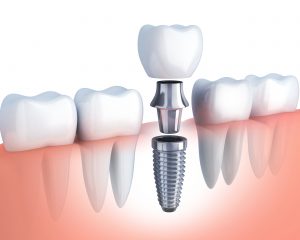 If you're in need of a dental implant to replace your missing tooth, you might not know what to expect. Your dentist might toss around terms that sound like they're from another language. Implants are such an important procedure, and a permanent one at that, so learning exactly what your dentist is talking about is crucial. Let's look at some key terms about dental implants in San Marcos that you should understand.
What are the Parts of a Dental Implant?
Dental implants have three main parts that work together to replace a missing tooth. These parts are:
Implant. The implant itself is a post that is inserted in the place where a tooth is missing. It is made of a material that gradually fuses with the jawbone, providing a strong and durable substitution for a natural tooth that will last for decades, if not a lifetime.
Abutment. An abutment is a connector that your dentist will place on top of your implant. It attaches to the restoration that goes on top, keeping it firmly in place.
Crown. A crown, also known as a cap, is the visible part that fits over a tooth or implant. They are attached to the abutment and once they are placed, your implant will look and feel like a perfectly natural tooth.
What are Dental Implants Made Of?
Dental implants can be made of a few different materials, all durable enough to function like natural teeth for a lifetime. These are the most common materials:
Ceramic. Ceramic implants are popular, as they look very similar to existing teeth. Restorations like crowns are typically made of ceramic as well, even if the implant is made of another material. If a patient has an allergy to metal, they might consider a ceramic implant.
Titanium. The majority of dental implants these days are made of titanium. This metal is strong yet lightweight, reducing the weight on your jawbone.
Zirconia. Because they have no prosthetic connections, the risk of bacteria growth after zirconia implants is much lower. They are also white in color, so they more closely resemble natural teeth.
What are the Types of Dental Implants?
It's always important to understand the structure of the device that will become a part of your anatomy. These are the three different kinds of implants that your dentist might use:
Endosteal: Your dentist or oral surgeon will surgically place small screws, cylinder, plates, or blades directly into your jawbone. Each implant can hold one prosthetic tooth. This is currently the most common type of dental implant.
Eposteal: A eposteal implant is supported by resting directly on the jawbone. This procedure is rarely used today and is often seen as an outdated method of placing an implant. However, if a patient has a high risk of bone resorption, an eposteal implant might be considered.
Subperiosteal: A metal framework is secured on the jawbone but below the gumline. The posts of this framework stick up through the gums and securely hold the prosthetic tooth in place. If a patient has minimal bone height or is unable to wear traditional dentures, they might consider a subperiosteal implant.
The language surround dental implants can sound confusing, but it doesn't have to be. By using this guide, hopefully you can understand a little bit more about the future of your oral health. If you still have any questions, it never hurts to ask your dentist or oral surgeon.
About the Practice
At San Marcos Gentle Dental in San Marcos, TX, we want to make your dental treatment as comfortable as possible. Both of our doctors, Dr. J. Robert Donnelly and Dr. John Drisdale, are certified in sedation dentistry to soothe any anxieties you may have about dental treatment. In addition, Dr. Donnelly has taken over 1,600 hours of continuing education courses, many of which were about dental implants. You will receive the latest and greatest care possible. For more info click here or call (512)-396-5225.