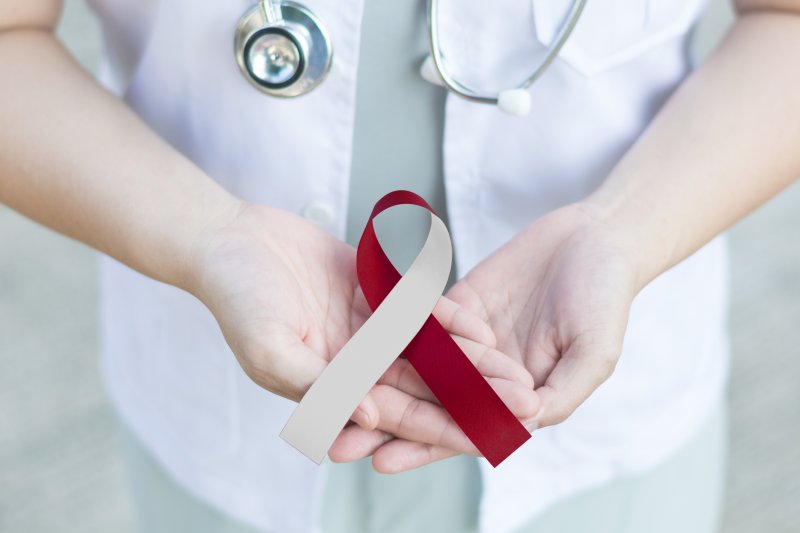 If you've been to the dentist for a checkup recently, you may have had your dentist perform a routine oral cancer screening. The process is fast and simple, but this exam could potentially be lifesaving.
April is Oral Cancer Awareness Month, which is a time when dentists raise awareness about this deadly and all-too-common disease. In the spirit of this month, here's some useful information about oral cancer that can help you detect this condition.
What are the Risk Factors for Oral Cancer?
As with any form of cancer, there are many complicated variables that can increase your risk of developing the condition. Unfortunately there are some, like age and genetics, that you can't really do all that much about.
However, there are also some common risk factors that you can control. Substance use is a big one—smoking and alcohol abuse can both dramatically increase your chances of oral cancer. If you're concerned about the condition, cutting back on them is a great place to start.
Oral cancer has also been connected to the sexually transmitted disease HPV. While most people who contract the disease will recover, in some people the virus lays dormant and causes complications down the line. Thankfully there's a vaccine for HPV, so you should make sure you're protected.
What are the Symptoms of Oral Cancer?
Oral cancer can be really tough to self-diagnose because many of its distinguishing symptoms look like other, less serious conditions.
The primary difference with oral cancer is that these symptoms won't fade over time. If you have any of the following symptoms for longer than a few weeks, you should talk to your dentist about a more thorough exam:
Mouth Sores or Ulcerations
Red, white, or black patches
A patch in the mouth that bleeds when touched
Lump or hard spot
An irregular growth
Painless, immobile lump on the neck
Sore throat
Difficulty swallowing
Persistent cough
Swollen tonsil on just one side
Earache on just one side
Again, if you notice that you have one of these conditions and that it does not fade, you should call a dentist. Moving fast is the best way to improve your prognosis, so if you're worried, don't wait!
About the Author
Dr. J. Robert Donnelly is a dentist with credentials that are second to none, and a care for his patients that can make anyone comfortable. Dr. Donnelly served as an Officer in The United States Marine Corps before receiving his Doctor of Dental Surgery from The University of Texas Health Science Center in San Antonio. He has earned the title of Master from the Academy of General Dentistry, which is in recognition of over 1,600 hours of dental education.
If you have any questions about oral cancer, we can be reached at our website or by phone at (512) 396-5225.