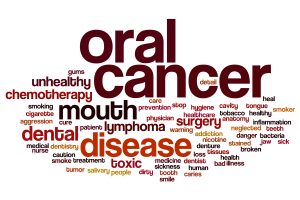 April is a very important period for dentists around the country because it has been designated as National Oral Cancer Awareness Month. Therefore, they are banning together to fight this disease by stressing the importance of oral cancer screenings. Your dentist in San Marcos is doing his part by encouraging you to come in for a semi-annual checkup. As you continue reading, you'll learn why this is so important in preventing the development of this disease.
What is Oral Cancer?
Oral cancer is the unorthodox growth of mutated cells in the body and, if not treated in time, can be fatal. Researchers project that over 40,000 people will be diagnosed this year and at least 10,000 will succumb to it.
The following shows how the disease can progress:
In the mouth – If in the oral cavity, this form of cancer can leave traces in the lips, cheek lining, teeth, gums, the front two-thirds of the tongue and the roof of the mouth.
In the throat – When it enters the throat, it may be found in the tonsils and at the base of the tongue (considered as part of the throat).
Whether the cancer has entered the mouth or throat, it will usually give warning signs.
Don't Ignore These Symptoms
Here are some signs to be on the lookout for:
A sore or irritated throat that doesn't seem to get any better
Red or white patches on the soft tissues in the mouth
Pain, tenderness or numbness in the mouth or lips
A lump, thickening, rough spot, crust or small eroded area
Difficulty chewing, swallowing, speaking or moving your tongue or jaw
A change in the way your teeth fit together when you close your mouth
Why Oral Cancer Screenings are Important
One of the many benefits of visiting your dentist semi-annually is that you'll receive a full oral cancer screening. Here are two advantages of taking this proactive stance to protect your health:
As subtle as it may seem, one of the great advantages of having an oral cancer screening done is that you'll have the peace-of-mind of knowing what's going on with your oral health.
Second, if traces of the disease are found, your dentist can address it early, before it mushrooms. Furthermore, he'll be able to use more treatment options then he would if the cancer had already grown tremendously.
Your dentist encourages you to adopt a sense of shared responsibility for your oral health, which will leave you feeling empowered in the long run. You're welcomed to reach out today to schedule your first semi-annual visit to lead you down the road to health and wellness!
About the Author
A graduate of the University of Texas Health Science Center in San Antonio, Dr. J. Robert Donnelly is passionate about helping every one of his patients experience the highest level of oral health. Thus, he has completed over 1600 hours of continuing education, covering 16 different disciplines. Dr. Donnelly improves patients' health at San Marcos Gentle Dental and can be reached for more information through his website.