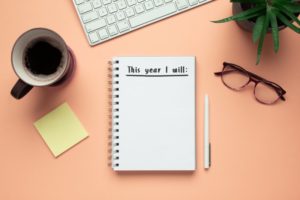 Making resolutions at the beginning of a new year is a common practice, and if you're like many others, you may have a good list already written up. Before you sign off on it, have you thought about adding a healthier smile to the mix? There has never been a better time to pay more attention to oral health, and your San Marcos dentist has a few tips to share to help you show your smile a little extra love this year.
Add a Healthier Smile to Your New Year's Resolutions
A new year means a fresh start, and here are a few ways you you can make the most of your opportunity to have the smile of your dreams:
Start Good Oral Hygiene Habits
Brushing their teeth is something that most people do at least once a day, but did you know that studies have proven that only 20% floss when they feel the need to. Another 8% say they never floss at all. Flossing is an extremely important component to overall hygiene. Your toothbrush can only accomplish so much on its own. It's important to floss and brush together so that hard-to-miss particles and bacteria don't build up in between your teeth and cause decay or infection on your teeth or in your gums.
Eat Your Fruits and Veggies
When you were a kid, your caretakers may have stayed on top of your fruit and vegetable intake to make sure you were getting a balanced diet. Like many people, you may have slipped out of the habit of regularly eating them as you aged. The good news is, it's never too late, and the essential vitamins in fruits and vegetable are crucial for oral health. In fact, some even have enough fiber to actually help clean your teeth while you eat them. Celery is one great example of a fiber-full veggie.
Cut Back on the Sweets
A lot of people decide to consume less sugar in the coming year for many reasons, a slimmer waistline being one of the most popular. However, that's not the only benefit you'll see from limiting your sugar intake. The less sugar you eat, the less you have to worry about it sticking to your teeth and causing cavities!
Be Diligent About Visiting Your Dentist
One of the easiest ways you can prevent oral issues and take care of your smile is to see your dentist regularly for dental checkups. Every time you visit, they perform x-rays to check for gum disease or jaw issues, and they also perform an oral cancer screening. Because of preventive exams, the survival rate for oral cancer has increased significantly over the past several decades Plus, the sooner your dentist can identify potential issues like cavities or infection, the more treatable they are, and the less time and money you have to spend for treatment.
Don't let this year pass you by without prioritizing a healthier smile. See your dentist as soon as you can so you can set yourself up now for success with your oral health down the road!
About the Practice
Dr. J. Robert Donnelly leads the team of experts at San Marcos Gentle Dental. He understands the importance of providing his patients with the tools and knowledge they need to keep their teeth healthy for years to come. His years of training and experience make him an excellent choice for your next dental home in San Marcos. He also strives to ensure that everyone who enters the doors to his office is confident that they are in good hands and feel right at home. Are you ready to schedule your next dental checkup? Request an appointment online or call (512) 396-5225.