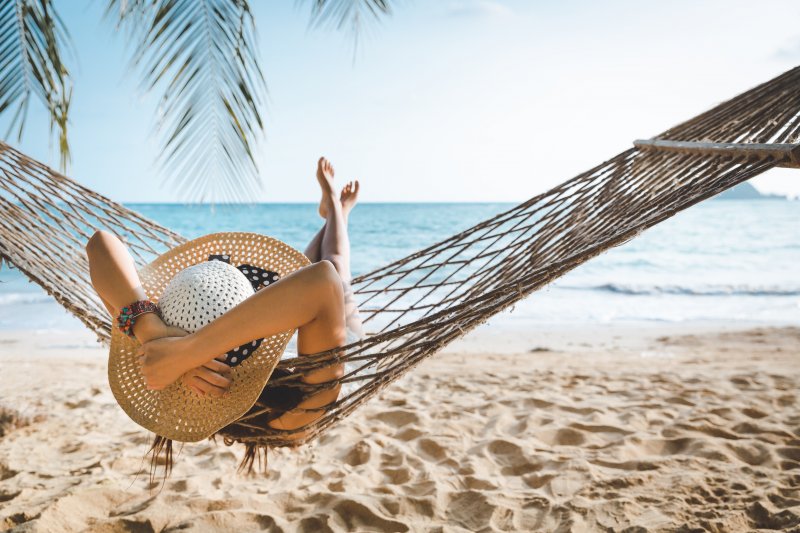 Now that summer is here, you're likely eager for a well-deserved trip. That's natural enough – a break would allow you to enjoy fun in the sun! Still, do care for your teeth and gums during this time. A healthy smile will make your seasonal getaway all the sweeter. If you need help on that front, your San Marcos dentist can even assist. Read on to learn four oral health tips for your summer vacation this year.
Book a Pre-Trip Dental Visit
In reality, it'd be a good idea to see a dentist before starting your trip. A quick pre-vacation dental visit has several benefits.
For starters, this checkup will help prevent a dental emergency abroad. Namely, it lets your dentist diagnose and treat minor issues before they get severe. You'd then be less likely to suffer a major oral issue – tooth infections, etc. – amidst your fun.
Another perk to the appointment is convenience. Summer means fewer work or school activities, so fitting dental into your schedule is easier.
Pack Essential Dental Tools
It isn't just swimsuits and sunscreen that you should pack for your trip. Besides those and similar items, you'd be wise to include a dental travel kit. This assortment of dental tools will keep your mouth clean while you're away. To be specific, make sure the kit has:
Travel Toothpaste: Travel-size fluoridated toothpaste will protect your enamel from harmful oral bacteria.
Travel Toothbrush: With a soft-bristled toothbrush, you can remove excess plaque that clings to your teeth.
Travel Floss: Whether you use traditional floss or flossers, flossing reduces your risk for cavities and gum disease.
Clean Your Teeth Routinely
However tempted you might feel, don't let go of your oral care routine on vacation. Regular teeth cleaning will keep your smile fresh for a new locale.
The oral habits you should maintain are what you'd normally practice. In particular, brush twice daily, floss once daily, and rinse with mouthwash often. Doing these things will reduce the odds of negative oral issues – cavities, gum disease, etc.
Eat Carefully
Many people like to sample new cuisines on summer vacations. If that applies to you, though, be careful; some foods could still damage your pearly whites.
For example, try not to eat sweet treats excessively. These items tend to be high in sugar, which tends to cause tooth decay and cavities. Instead, snack on healthy foods that go easier on your teeth and gums.
As you can see, the right oral health tips for summer vacation are crucial. They'll ensure your summertime doesn't involve toothaches or dental emergencies!
About the Practice
San Marcos Family Dental Care is based in San Marcos, TX. Led by Dr. Donnelly, our practice offers the very best in comprehensive dentistry. To that end, we perform preventive, cosmetic, and restorative services, as well as emergency dental procedures. Our office also takes pride in being a certified provider of sedation dentistry and Invisalign clear aligners. For more information or to book a visit, you can reach us on our website or by phone at (512)-396-5225.