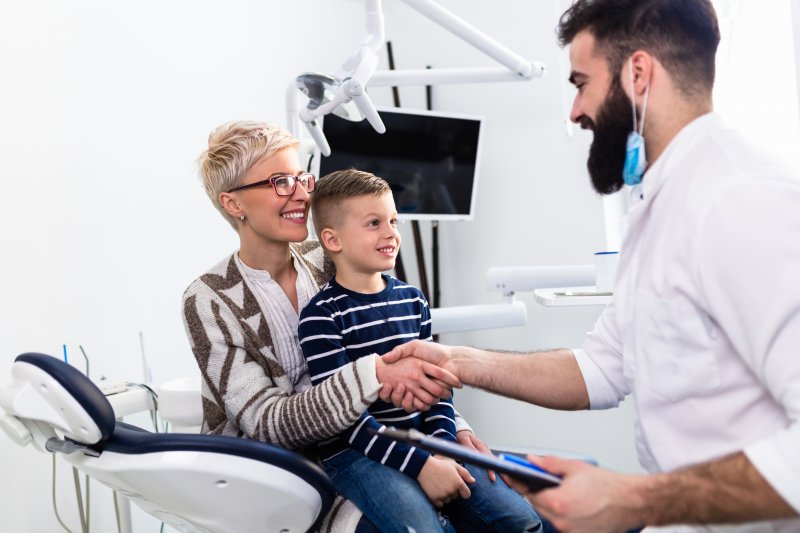 Trying to keep up with the appointments of your whole family can be overwhelming, especially if you are constantly having to drive back and forth across town. When each member of the family is going in for their regular checkups and cleanings every six months, it can get pretty hectic. Here are some of the greatest benefits of choosing a family dentist in San Marcos for all of your family's dental needs.
Convenient
Family dentists are equipped to treat all sorts of oral health problems for patients of all ages. Whether it's your one-year-old son or your great grandmother, you will only need to bring them to one convenient location. This eliminated travel time and makes it easier to manage the care of your whole family. You may even be able to get multiple appointments done in one visit!
Early Detection
When you consistently visit a family dentist, you are more likely to detect dental problems earlier which leads to a more successful treatment. Your dentist will examine your mouth for early signs of issues like periodontal disease, oral cancer, and other problems. X-rays are completed to check for issues that are not easily detected by the naked eye. Having these regular visits with your dentist can make a huge difference.
Appointment Scheduling
If you are consistently busy driving the kids around, keeping up with their extracurricular activities, working, or doing other things that tighten up your schedule, it can be difficult to make time for a dental appointment. Fortunately, family dentists are very understanding of this. By working with the friendly administrative team, you will be able to work out an appointment time that is best suited for your family's busy life.
Education
Going to the dentist isn't just about having your teeth cleaned and polished. Your family dentist is also there to give you helpful advice on how to best take care of your smile and avoid future dental issues. Whether you have questions over which toothpaste is the best or what dietary changes can benefit your smile the most, your dentist is there to help.
Building a Relationship with Your Dentist
When you and your family build a relationship and trust for your dentist, it makes the experience much more comfortable and personal. This is helpful for alleviating dental anxiety in both adults and children. It is easier to voice your concerns with some you are comfortable with rather than a stranger. By choosing one dentist for your whole family, you will build this relationship in no time!
Instead of running all around town for appointments, choose to see a family dentist. This will benefit the entire family and make dentistry comfortable and easy.
About the Author
Dr. J. Robert Donnelly is a family dentist serving patients at San Marcos Gentle Dental. After serving as an officer in The United States Marine Corps, he earned his Doctor of Dental Surgery from The University of Texas Health Science Center in San Antonio. He is a member of numerous professional organizations including the Academy of General Dentistry and the American Dental Association. To learn more about family dentistry or to schedule an appointment with Dr. Donnelly, visit his website or call (512) 396-5225.