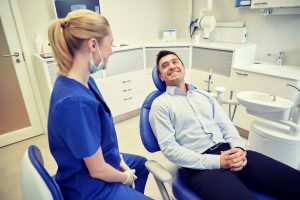 Did you know that according to the American Dental Association, only about one-third of Americans visit their dentist every year? That means that 66% of people aren't getting the oral healthcare they need to have a thriving and beautiful smile. Ideally, you should visit your dentist in San Marcos twice a year to reap all the benefits. "What are those benefits?" you might be asking. Let's talk about a few reasons why you should start the new year off right with a dental checkup and cleaning.
Get an Oral Cancer Screening
The vast majority of people who are diagnosed with cancer of the mouth or throat don't live to see five years past their original diagnosis. More often than not, this is because the disease is caught too late. Most cases of oral cancer can be caught early by your dentist at your regular biannual appointments. If it has been more than six months since your last checkup, schedule one as soon as possible. It could save your life!
Diagnose Tooth Decay
Tooth decay, another name for cavities, is the most common disease in the world after the common cold. Just because it's common, however, doesn't mean it's harmless. In fact, cavities can wreak some serious havoc on your pearly whites. What starts as a small hole in your enamel, if left unchecked, can quickly spread to the delicate center of the tooth, resulting in extreme pain that might necessitate costly and time-consuming procedures like a root canal or even a tooth extraction. Save yourself time and money in the long run by getting your cavities diagnosed and dealt with right away.
Treat Gum Disease
If your gums bleed when you brush and floss, you need to see your dentist right away. This is a common sign of early-stage gum disease, or a harmful bacterial infection in your gum tissue. Multiple studies have confirmed a link between gum disease and other health issues like heart disease, osteoporosis, and even Alzheimer's. Not to mention, it could make your teeth loose and even cause them to fall out!
Get Your Teeth Nice and Clean
Besides checking for signs of dental disease, the other portion of your regular appointments involves a professional teeth cleaning. Your dental hygienist will use special tools to remove plaque and tartar from areas of your mouth that your toothbrush and floss at home simply can't reach. Afterwards, they will polish your teeth to make them shine a little brighter.
Start 2020 off on the right foot by seeing your dentist in San Marcos for a checkup and cleaning. Not only will it make your teeth healthy and bright, but it could save your life!
About the Author
Dr. J. Robert Donnelly achieved his Doctor of Dental Surgery degree from the University of Texas Health Science Center in San Antonio. He has also graduated from the prestigious Las Vegas Institute of Cosmetic Dentistry and has earned Mastership status with the Academy of General Dentistry. This means he has completed more than 1600 hours of continuing education throughout the course of his career. You can trust that he will provide you with expert care. To learn more about him, you can contact his office at (512) 396-5225.