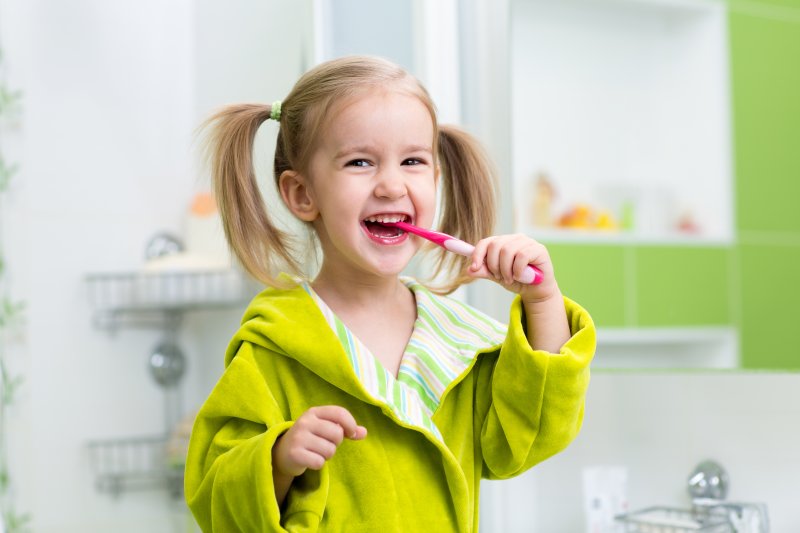 As part of the recognition of National Children's Dental Health Month, dentists around the country are promoting excellent dental care habits. Their strategy is to place a greater emphasis on education, to encourage parents to teach proper oral care habits and to maintain preventive care visits with a dentist in San Marcos. Read on to learn why now is the time to lay a foundation for your child's future oral health!
Why Oral Health is Important for Children
The following facts reveal why teaching kids proper dental care habits and seeking any treatment needed are so vital to their oral health:
Tooth Decay – Statistics show the leading health problem among American children is cavity development. Most alarming, though, is that most cases will go undiagnosed, which could set an unwanted trend for poor oral health that could follow your little one into adulthood.
School Attendance – According to the Center for Health and Health Care in Schools, 51 million hours of school are missed each week, which amounts to lost opportunities for children to learn.
Fortified Teeth – Over 80% of cavities are on the chewing surface of children's teeth, which means there is a greater chance of there being a reoccurrence of tooth decay. While dental sealants provide an excellent means of protection, less than 20% of children receive at least one.
By taking preventive measures to address the above concerns, your child will be better protected.
Lasting Improvements That Can be Made
The formative years are the best time to instill proper oral care habits into your child's psyche because he or she is very malleable at this stage. Thus, if the right regimen is introduced and encouraged early on, the healthy habits are more likely to be carried into adulthood.
There are three simple improvements that can pay-off immediately and in the future.
#1 – Brushing and Flossing Consistently
The one-two-combination of brushing and flossing removes debris on the surface of the teeth, in the tight areas between them and along the gum line. At a minimum, both should be performed in the morning and at night before your child settles into bed.
#2 – Making Healthier Food Choices
While most children would prefer a diet high in sugar-laden candy and dessert items, it's a much better idea to incorporate a healthier alternative like fruits. By adding a splash of creativity, you can encourage your little one to get on board with the plan.
An example of a slight tweak you can make is to blend several fruits to make a homemade juice. By taking this route, you can control the amount of sugar your child consumes while still fulfilling his or her craving for something sweet.
#3 – Maintaining Dental Visits
Every six months, you should take your child in for a preventive care visit. At each appointment, a thorough cleaning will be conducted, and the dentist will perform a tedious examination.
Thus, if there are any developing issues, they can be addressed sooner than later to avoid any complications.
By putting the above tips into effect, your child can enjoy a future full of the best dental health possible!
About the Author
Dr. J. Robert Donnelly is a graduate of the University of Texas Health Science Center in San Antonio. He has additionally met the rigorous requirements to attain the status of Master of the Academy of General Dentistry. Dr. Donnelly provides children with the absolute best in dental care at San Marcos Gentle Dental, and he can be reached for more information through his website.